รายละเอียดเพิ่มเติม
                       Unmistakable style for an experience of total wellness the  J-375 is suitable for indoor or outdoor installation, and features a square hot tub design.
                       Encompassing wellness in an effective, complete and satisfying way, the J-375 utilises 50 PowerPro® jets to deliver an effective hydromassage that after a long day of work revitalises you and eases away the aches and pains of everyday life.
                     The square hot tub design looks as at home in the garden in an outdoor installation as it does in an indoor installation and incorporates 5 seats and a lounger. Advanced features including 4 illuminated headrests and ProLites LED lighting system offer further comforts and heightens the hot tub experience.
FEATURES & OPTIONS
Featuring ergonomically-designed seating, exclusive
PowerPro® Jets and more deep tissue hydromassage options,
the J-300™ Collection was designed for comfort.

J-300™ Lounge
Tension-easing mini lounge seat with wrist jets (ProAir™ Lounge), comforting bubbling effect (BX Jets) along with Swedish upper back seats (PowerPro® Therapy Seat) and more deep tissue jets (FX) throughout.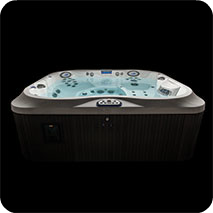 J-300™ Design
Ergonomically designed seating for comfort, LED lighting for ease of entry and repositionable headrests to perfectly position your body and maximize your hydromassage experience.
CLEARRAY® Plus 4-stage filtration
CLEARRAY® utilizes the same UV-C technology that beverage manufacturers, municipal waste water plants, hospitals and other health care environments use without producing or adding gas, chemicals, or other by-products to the water as a result. Learn More. And, a 4-stage water filtration system keeps water clean and free of debris quickly using four stages: ProClear® Filter, ProCatch™ Filter Bag, surface skimmer and a pleated filter.
 The ClearRay™ system, standard on all Jacuzzi® hot tubs represents an evolution in water treatment. UV light has been used for years as a reliable water disinfectant. The light effectively interacts with the DNA of bacteria and viruses, destroying their ability to reproduce. It is a natural process that adds no by-product to your water. Simply designed with a long lasting, low pressure UV-C lamp and integrated in the hot tub fi ltration process, ClearRay treats 99.9% of waterborne pathogens. Sanitising begins in seconds, giving you crystal clear water instantly.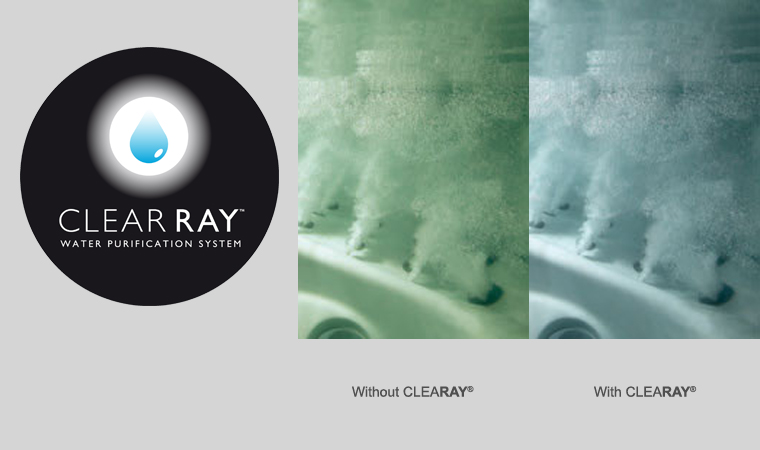 JET


PowerPro® NX2 Jets

(4)
Advanced NX2 Jacuzzi Hot Tub Jets effectively relieve tension and strain in the sensitive (and hard-to-reach) neck area with a highly focused stream of water. Change the direction by adjusting the nozzle and intensity of the massage by turning the jet face.

PowerPro® FX Jets

(18)
Jacuzzi Hot Tubs introduced these jets, with their unique directional rifling action that creates a spiral stream of air and water – perfect for stimulating small muscle groups. Fully adjustable for high or low pressure, exclusive PowerPro FX Jets have a rejuvenating effect and can help overworked, overstressed muscles and joints.

PowerPro® BX Jets

(12)
The BX "Bubbler" Jet represents another Jacuzzi milestone in jet technology. As part of the exclusive ProAir™ Lounge system, this unique patent-pending jet massages the calves with a comforting yet rejuvenating bubbling effect

PowerPro® FX Large Jets (2)
The PowerPro® FX Large Jets focuses on the middle of the back relieving tension and muscle strain, typically caused by poor posture. The FX Large Jet gives a spiral action massage to the back promoting better circulation.

PowerPro® FX Large Rotational Jets

(3)
Patent-pending jets that deliver intense hydrotherapy without moving parts, the jets are the larger, more powerful version of the original Jacuzzi FX jets. Their distinct spiral action produces a surging stream of air and water that provides a vigorous massage to larger muscles in the back and shoulder areas.

PowerPro® FX Rotational Jets (6)
Using the same FX technology, the PowerPro® FX Rotational Jet focuses on smaller muscle groups with a kneading effect to stimulate surrounding tissue.

PowerPro® MX Jets (5)
This is the original Jacuzzi jet, perfected. Virtually every jet manufactured today is based on this unique and innovative design. Jacuzzi's PowerPro® MX Jets deliver the maximum volume of water per minute – more than any other jets available today. The big, bold massage action of the MX Jet feels comforting as it works deeply to soothe tired and sore muscles.