รายละเอียดเพิ่มเติม
                           With room for six adults, the Jacuzzi® J-480™ model epitomizes luxury with a sleek, modern design. The Jacuzzi® J-480™ spa boasts premium PowerPro® Jets, which provide a total-body massage including six RX Jets, an illuminated IX Jet in the foot dome and small but mighty PX Jets for your wrists in the lounge seat. This hot tub model also features plenty of LED accents from the feel-good dual waterfalls to the logo light, pillows and cup holders!
FEATURES & OPTIONS
Large Designer 6-Seater Lounge Spa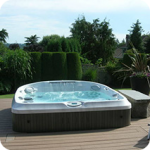 J-400™ Double Waterfall Design
The exclusive high-back Jacuzzi® silhouette, premium LED lighting throughout and backlit double waterfalls that cascade down your neck and back make J-400™ Hot Tubs a sight to behold.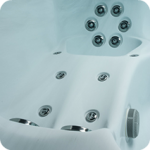 J-400™ Lounge
The exclusive RX lounge seat features our best jet yet, that knead key muscles and nerves to relax the back and PowerPro® Jets along the legs and feet for full-body relief. And, jets that rotate and swirl to pamper, stimulate and penetrate your muscles from your neck to your wrists.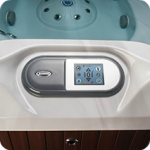 J-400™ ProTouch™ Control and ProLink™ app
The full-color ProTouch™ Control paired with the ProLink™ app helps you stay informed of the status of your hot tub, schedule maintenance reminders and adjust temperature and jet functions.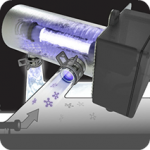 CLEARRAY® Plus 5-stage filtrationCLEARRAY®
utilizes the same UV-C technology that beverage manufacturers, municipal waste water plants, hospitals and other health care environments use without producing or adding gas, chemicals, or other by-products to the water as a result. Learn More. And a 5-stage water filtration system achieves the cleanest water in the shortest amount of time by utilizing five-stages: ProClarity® Filter, ProClear® Filter, ProCatch™ Filter Bag, surface skimmer, and a pleated filter.
JET




PowerPro® NX2 Jets

(4)

Advanced NX2 Jacuzzi Hot Tub Jets effectively relieve tension and strain in the sensitive (and hard-to-reach) neck area with a highly focused stream of water. Change the direction by adjusting the nozzle and intensity of the massage by turning the jet face.

PowerPro® PX Jets

(6)
The PX Jets provide a gentle pulsating massage which is perfect for small muscle groups in the wrist and hand. With the introduction of the PX, all the major muscle groups have hot tub jets developed to target specific needs. The strength of the hot tub jet can be adjusted for different rates of flow so you are able to customize the massage to what suits you best.

PowerPro® FX Jets

(12)
Jacuzzi Hot Tubs introduced these jets, with their unique directional rifling action that creates a spiral stream of air and water – perfect for stimulating small muscle groups. Fully adjustable for high or low pressure, exclusive PowerPro FX Jets have a rejuvenating effect and can help overworked, overstressed muscles and joints.


PowerPro® FX Large Rotational Jets

(6)

Patent-pending jets that deliver intense hydrotherapy without moving parts, the jets are the larger, more powerful version of the original Jacuzzi FX jets. Their distinct spiral action produces a surging stream of air and water that provides a vigorous massage to larger muscles in the back and shoulder areas.


PowerPro® IX Jets

(1)

Jacuzzi Hot Tubs PowerPro IX Jets create a dramatic stream of light and effervescence. The IX Jet merges maximum airflow with high-output LED lighting, sending multicolored, champagne-like bubbles from the bottom of the hot tub to the surface.


PowerPro® FX Small Jets

(8)

Based in the FX technology, the FX Small Jets are perfect for a focused massage on key pressure point areas, such as your feet. The jets are adjustable, making it easy for a spot-on foot massage.


PowerPro® FX Rotational Jets

(6)

Using the same FX technology, the PowerPro® FX Rotational Jet focuses on smaller muscle groups with a kneading effect to stimulate surrounding tissue.


PowerPro® RX Jets

(6)

The spinning action of the new patent-pending PowerPro RX hot tub jet is fully adjustable. Simply turn the dial on the face to customize the pressure or turn off the jet action entirely. Modest in size, the RX Jet covers a sizable area, reaching the key muscles and nerves of the back for a pampering hydromassage.


PowerPro® MX2 Jets

(3)

Based on the form and function of the original Jacuzzi jet created 50 years ago, the new-generation, patented Jacuzzi Hot Tub MX2 Jets deliver maximum volume at a higher air-to-water ratio. PowerPro MX2 Jets are strategically located to deliver a bold massage, especially effective for muscles in the lower back.