รายละเอียดเพิ่มเติม
    Combining the best elements of the current J300 and J400 series Jacuzzi® Hot Tubs, the J-LX offers several features to enhance comfort including redesigned pillows, improved ease of entry with multi-tier cool down seat, and smarter jet placement for a vigorous and luxurious hydro-massage, whilst the underwater diverters make it easy and convenient to adjust jet flow.
                     Clever engineering by Jacuzzi® designers means cleaner water with minimal effort as the J-LX high flow pump refreshes water up to 7 times more often than other models on the market. Using less energy, the J-LX filters 16,000 gallons of water per day. This efficient, energy saving system ensures that J-LX reduces energy usage by up to 48% compared to other models in its class.
FEATURES & OPTIONS
          With a contemporary design and performance that exceeds energy efficiency standards, the J-LX® Collection offers a premium hydromassage without reduced jet power.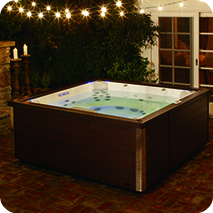 J-LX® Design
 Patented flat surface deck profile for a minimalist look while eliminating                exposed acrylic for energy efficiency.

J-LX® Open Seating
Seats throughout feature deep tissue jets (FX), bold knot-releasing jets (MX2) and targeted pressure point jets (NX2) for the neck, back and calves.

CLEARRAY® Plus 4-stage filtration
CLEARRAY® utilizes the same UV-C technology that beverage manufacturers, municipal waste water plants, hospitals and other health care environments use without producing or adding gas, chemicals, or other by-products to the water as a result. Learn More. And, a 4-stage water filtration system keeps water clean and free of debris quickly using four stages: ProClear® Filter, ProCatch™ Filter Bag, surface skimmer and a pleated filter.
JET
PowerPro® NX2 Jets

(4)

Advanced NX2 Jacuzzi Hot Tub Jets effectively relieve tension and strain in the sensitive (and hard-to-reach) neck area with a highly focused stream of water. Change the direction by adjusting the nozzle and intensity of the massage by turning the jet face.

PowerPro® FX Jets

(21)

Jacuzzi Hot Tubs introduced these jets, with their unique directional rifling action that creates a spiral stream of air and water – perfect for stimulating small muscle groups. Fully adjustable for high or low pressure, exclusive PowerPro FX Jets have a rejuvenating effect and can help overworked, overstressed muscles and joints.


PowerPro® FX Rotational Jets

(5)

Using the same FX technology, the PowerPro® FX Rotational Jet focuses on smaller muscle groups with a kneading effect to stimulate surrounding tissue.

PowerPro® RX Jets

(4)

The spinning action of the new patent-pending PowerPro RX hot tub jet is fully adjustable. Simply turn the dial on the face to customize the pressure or turn off the jet action entirely. Modest in size, the RX Jet covers a sizable area, reaching the key muscles and nerves of the back for a pampering hydromassage.

PowerPro® MX2 Jets

(2)

Based on the form and function of the original Jacuzzi jet created 50 years ago, the new-generation, patented Jacuzzi Hot Tub MX2 Jets deliver maximum volume at a higher air-to-water ratio. PowerPro MX2 Jets are strategically located to deliver a bold massage, especially effective for muscles in the lower back